Archived News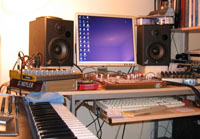 7/15/17
Twin Cities Residency: Schuyler Tsuda
Last month, I was 113 Composers Collective's artist in residence. I was featured in 3 events, which included a profile concert of mostly solo compositions and a world premiere performed by the amazing musicians of Strains New Music Ensemble, a house show with my old Minneapolis noise duo Shield Your Eyes with my good friend Michael Duffy, whom I haven't played with for 7 years, and an audio circuit design workshop led by yours truly. Words can't express what a wonderful experience this was for me. I'll be sharing media including video, audio and photos this coming week so be sure to check out all the new stuff on my website in the next few days!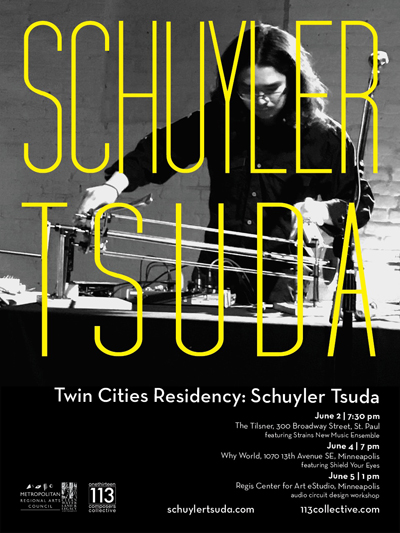 7/22/12
Back into Focus
After another extremely long lapse (eight months to be exact), it's probably about time I gave an update on my recent plots, schemes and major life reflections. I never could have foreseen this, but after working at the Doris Duke Theatre for nine months as a projectionist, I've been hired as Music Programmer. It really is a special, dream position, especially considering the fact that the theatre and museum are a hub for amazingly interesting, talented and knowledgeable artists, musicians and eccentric/weird/mind-bogglingly-wealthy art lovers. I only really miss idealist, DIY, art-school hipsters, but that's another story. Anyway, I'll be seeking out some of the best, lesser-known bands and artists of today. I really, truly believe in showcasing artists with a unique vision and the courage to do follow it, and while it will be within a completely different context, I see my new position as a continuation of the work I did with the final Spark Festival and with the underground Room Zero concert series.
I've also had some good news on the composition front. Since last October, I've had four performances of Normale. One was in Minneapolis in October for the CMW An Anti-Opera concert. That performance was extremely powerful, and I'm convinced that if James DeVoll, Ben Davis and Scotty Horey played all of my pieces from now on, it would be the best thing ever. Not so coincidentally, I am composing a solo piece for each of them, which will combine with Normale to form a larger version of the piece. It took a long time and lots of hard work, but Scotty's solo percussion piece is just about done, and it is a beast! I also had a 2nd performance by ECCE with their core US performers in NYC this past March at the Tenri Cultural Center, which went very well. Finally, this past May, the CMW trio performed Normale in Oskaloosa, Iowa and did a studio session in Minneapolis for Scotty Horey's upcoming instructional DVD, which I produced and am in the process of editing.
Finally (for now), I know we haven't played a Shield Your Eyes show in a long time, but we're not dead yet! Mike is flying out to Honolulu to play a show with me at the Doris Duke Theatre on November 2, 2012. We'll be playing live to 3 silent films by legendary avant-garde filmmakers: Jan Svankmajer, Guy Maddin and Kenneth Anger. We'll also be playing with one of my mentors, Jim Hearon, who is the editor for the Csound journal, has worked for Dolby and plays electric violin. True genius.
Until next time, keep it experimental!
Schuyler \\m/
11/23/11
Perspectives
Just to put things into perspective, roughly five months ago, the McKnight Fellowship had run it's course, I was jobless, and I hadn't written a piece in over a year. And it wasn't for lack of trying. I decided to move back to my hometown, which was strange, to say the least, after having lived in my beloved Minneapolis for five years. It was a excruciatingly difficult move, but surprisingly, things starting picking up relatively quickly. I started working at Studio JAV as a Producer/Mix Engineer, and I was hired at the Doris Duke Theatre at the Honolulu Academy of Arts to do Projection for art house films and A/V Support for live concerts. Then, two weeks ago, out of the blue, I was offered a teaching position in Orchestration at the University of Hawaii.
It's funny how life works sometimes, but sometimes it just takes a change in your way of thinking. I had been focused on university job applications for a year–a thoroughly depressing endeavor–and had forgotten what was really, truly important to me in the end. In the last few months, I refocused all of my energy in my art and pushed myself forward with the intent of working closely with specific ensembles and musicians and traveling to concerts. I had a performance in Auvillar, France with ECCE, who commissioned "Normale" for the Etchings Festival in 2011, an amazing U.S. premiere of "Normale" in Minneapolis by CMW (soon to be posted), and I have five other performances lined up for next year including a New York performance by ECCE on March 2, 2012, a performance and workshop at Drake University, performances in Chamber Music Midwest and the Oskaloosa Chamber Music Festival. I am also one of the six U.S. composers selected for the World New Music Days Festival 2012, which will be in Brussels.
In other news, we are nearly done with the 2nd Shield Your Eyes album–after 3 years! It will be released sometime early next year. We will have a limited edition multiple disk release with a custom case made by yours truly as well as a digital download option. Shield Your Eyes is also in the new compilation on Zos Kia Sounds Under A Big Red Sun available on Amazon.com. I have also been secretly planning a Room Zero blog page, which will be the virtual successor of the Room Zero we started back in 2010. More on that later!
Cheers and best wishes all,
Schuyler
11/24/10
The Last Few Months
As time goes by, I find it harder and harder to sum up the last few months and report on the latest news. Lately, the good tends to get all mixed up with the bad, and sometimes you just feel ambivalent about the whole thing. So how do I sum up the last few months? With great difficulty.
I've been freelancing like crazy the last few months with my audio/video production company The Sonic Alchemists. I'm still in the middle of a couple of projects, but some of these have been weird experiences to say the least. One of my recently completed video projects is a short documentary on Irvine Arditti's residency with the Contemporary Music Workshop in 2009. The documentary can be seen here.
I'm not sure if the Musica Viva concert is still on. It remains to be seen, but if it does happen, Andrei Kivu will play my solo cello piece Kado in Lisbon. The Romanian concert, however, has unfortunately been cancelled.
In the "good news" category, I have been accepted to the 2011 Etchings Festival! I will be leaving for France in a couple of weeks, and I'll be working with ECCE (East Coast Contemporary Ensemble) on the piece I composed for them. I'll get to spend some time in Paris with Andrei after the festival, all of which I'm looking forward to. I plan to shoot color Super 8 while I'm there.
In Shield Your Eyes news, Room Zero was shut down a while back due to, shall we say, differences of opinion with management. The last venue we had, 1419, was shut down shortly after in part due to similar problems with management. The last Shield Your Eyes show that we did (and hopefully not the last ever) was at St. Cloud State University, where we did a residency as guest artists. It was an "okay" show, I have to say, but the workshops we did were fun. We have a track on an upcoming compilation for OxFam, put out by Zos Kia Sound Recordings, which has been mastered and will be out very soon, and that recording session I did with the Vultures will appear at some point in the future. It's literally out of my hands now, so I have no idea when it's going to get done. Just like with everything else in life, hope for the best, prepare for the worst!
Moving Forward
It's been a while since my last update, and I suppose the big news to report is that I finally have my Ph.D. This year, I am a freelance composer with the help of the McKnight fellowship.
I have been nominated for the Ježek Prize in Composition, the winner of which will be commissioned by the incredible Talea Ensemble. At the moment, I am in the middle of composing a commissioned solo piece for a wonderful saxophone player named Lisa Rhoades, which will be recorded on her upcoming CD.
My good friend, the wildly talented Andrei Kivu, will be performing my solo cello piece Kado: The Way of Flowers in Bucharest next year at the Săptămâna Internaţională a Muzicii Noi (SIMN) and in Lisbon at Musica Viva in September of next year. I hope to be in attendance.
In Shield Your Eyes news, we have been picked up by the Born In Mind label, run by Dan Beattie of the Vultures Quartet. the 2-disk debut release Sonic Alchemy Sonic Anarchy will be officially released on BIM sometime next year.
I have also been busy doing audio production work with my company The Sonic Alchemists. I have recorded an album's worth of material and then some for my friends across the pond, Vultures Quartet, and the recordings feature yours truly on DIY steel instruments. Expect a CD release on the Born In Mind label sometime in the future. I also recently finished engineering an epic 3-day marathon recording session for an improv trio consisting of Finnish folk singer Anna-Kaisa Liedes, free jazz violinist Wendy Ultan and multi-instrumentalist improviser Erkki Huovinen. Look out for a CD release in the near future.
2/17/10
After Nearly A Year
I've been busy with many different projects since my last update, which was way back last year in May. I've gone through a lot since then, learned a lot, had many valuable experiences and have come to closer to some kind of self-realization about who I am and what I believe in.
The latest bit of news is that Mike Duffy and I have started an audio and video production business called The Sonic Alchemists. After talking about it for a couple of weeks, we decided that it was the right time, the right circumstances, and we needed to do it. The Sonic Alchemists project isn't just a business venture for us. It's first and foremost about the art. We are looking for very unique projects and artists with a real vision. It's all about character and imagination, from artist conception to mixing and mastering.
We've already gotten work doing some interesting projects, one of which has been Patrick Flanagan's robot band Jazari. We produced two videos, which will be up soon, and we track and engineered the live audio.
Speaking of which, the big secret I've been keeping for well over a year now is that I've been mixing and mastering an album called Schematics by a mind-blowing Industrial rock phenom, Petey K, whose solo project is called PATCH. I'm almost done with the master now, and you can expect the album to be released in April this year.
In concert music news, I've been performed by the legendary Irvine Arditti! He performed my composition The Architect for solo violin just this past December. For the record, he was the sweetest person to work with. It was a real pleasure, and he played the hell out of that piece.
I will be premiering my dissertation piece at the end of April entitled Tinguely for strings, percussion and built instruments. A day after that concert, Andrei Kivu will premiere my solo cello piece entitled Kado: The Way of Flowers at the Weisman Art Museum in Minneapolis. I'm bringing Andrei in from Romania for a week of events in April, culminating in a solo concert on May 1. Keep checking our website, Shield Your Eyes for upcoming show dates.
I'm also bringing in the audio hacking guru, Nicolas Collins to do a talk and workshop here at the UofM in April. I'm a big fan. It should be a lot of fun. Stay tuned for news on that front.
There's lots of Shield Your Eyes news to report. We have our own performance space now, called Room Zero (e-mail me for details). We'll start playing shows there at the end of February and we'll put on at least one show each month. Besides that, we're playing in New York in March at NYCEMF, Brooklyn College Conservatory, and possibly at some small noise/experimental clubs with Post Abortion Stress, and we'll be playing in St. Cloud, MN for SEAMUS 2010 in April. We are also playing Art of This Gallery in April with Andrei Kivu guest starring with us. The Shield Your Eyes 2010 "tour" begins with a show this Sunday 2/21/10 at the School of Music at the UofM, which is an Experimental Electronic Music Showcase with CMKT 4, Talking Computron and Pelzwik.
5/26/09
Epic News Storm
In my last post, I noted the slow pace of progress that had quickly become a recurring theme of this year for me. In a strange turn of events, the wheels began to spin, but furiously, this month of May. First of all, I had a world premiere of my new piece Residual Aberrations of Extinct Archetypes for brass, percussion and strings by the CMW Ensemble! Check out the video of the premiere on my List of Works page. My ensemble did an incredible job on the piece and truly made it their own–so much so that I dedicated the piece to them.
A few days after the performance, I received word that I had been awarded a Doctoral Dissertation Fellowship from the University of Minnesota! I can't even begin to tell you how happy I was to get this award. I was still taking in the good news and actually talking to my advisor about it when I got a call a couple days later from the American Composers Forum. They called to say that I had been awarded the McKnight Composer Fellowship! I can still hardly believe it.
This August, I'm going to Romania to work with Iancu Dumitrescu, Ana-Maria Avram and the Hyperion Ensemble. I've been plotting and scheming this trip since last year, and it's finally going to happen . . . but that's not all. I'm going to Belfast to stay with a good friend of mine, and I will be playing one or two noise shows in London while I'm in the UK. I may be playing with these guys, The Vultures. I'll then go to Trier, Germany with an old friend of mine and possibly play a noise show in Hamburg or Berlin. This will be my first European trip, and I'm thinking that it's going to be pretty amazing.
Remember that noise show I've been wanting to put on? Well, it's going to happen. We've got the Bedlam Theatre in Minneapolis, oh yes, my friends! I love the Bedlam. We played our favorite show there last year at the Bearded Child Film Festival. We don't have the full lineup yet, but I can confirm that Shield Your Eyes and Ice Volt (Bryce Beverlin II) will be playing! Bryce is our favorite local noise artist. The guy is one of the most amazingly creative, musical, intense and visceral sound artists you will ever see. This show will be a noise show/Shield Your Eyes CD release party. The limited edition steel cases are finished after hours upon hours of welding, and they will finally be available! We will unveil some new instruments and some very different material plus a special guest performer, so come out on September 18, expect the unexpected and prepare for an incredible show.
3/29/09
Aberrations
Things are moving more slowly, it seems this year, but they are moving. I've finished a composition for brass, percussion and strings entitled Residual Aberrations of Extinct Archetypes. It will be performed on May 8, 2009 by the CMW Ensemble. We've just begun rehearsing it, and it's really in the early stages of coming together, but I'm very optimistic, and I've been working with good players.
On another front, I am a big fan of the Because God Told Me To Do It mp3 blog. Thee Brad Miller will be releasing a Shield Your Eyes track on the Because God Told Me To Do It Compilation, which will be available for download from April 1-4 in 4 parts (1 part per day). Look out for it, and enjoy!
2/11/2009
Shield Your Eyes Website
The Shield Your Eyes Website is now up! It looks so hot. Our debut album "Sonic Alchemy Sonic Anarchy" is now available. Contact me if you're interested, and stay tuned for news about some upcoming shows in Minneapolis and New York!
10/15/2008
Just a Small Update
My acousmatic piece, Feedback Study will be played in Romania on October 22, 2008 in a Hyperion Ensemble concert! Also, Mike Duffy and I just played a Shield Your Eyes set last Friday night, and the video is now up. Check it out here! Our double-disk, limited edition album is almost mastered. The first 10 or so will be housed in hand-fabricated steel cases, which I'll be hard at work building during the next couple of weeks.
8/11/2008
Bearded Child Film Festival
Oh yes, my friends. Tinnitus will be screened at the Bearded Child Film Festival! It was just screened in Grand Rapids, MN, and it will be screened again this week Wednesday when the Bearded Child Film Festival comes to Minneapolis. The festival runs from August 13-16. Tinnitus is on the 6pm show on the opening night, Wednesday, August 13. But wait, theres more! Shield Your Eyes, my noise duo with Mike Duffy, will be playing the following night at 12:30am, after local noise band Cell Phone. It will be a pretty crazy show. I'm going to unveil some new stuff and so will Mike, all of which will remain top secret until the night of the show. Check out the schedule here. The festival will be at the Bedlam Theatre, which is on Cedar and Riverside in Minneapolis, MN. Hope to see you there!
Creative Dialogue Composer Workshop
The Creative Dialogue Composer Workshop was an incredibly intense experience. It was the lowest of lows and the highest of highs, and all this in a single week. I was honestly convinced that my piece would not get played by the second day. There were logistical problems that just seemed to completely stop us from putting my piece together from the beginning. My performers were frustrated, I was frustrated, and we hadn't even played a single note! But amazingly, we collaborated and found solutions together–Kaija Saariaho, Anssi Karrtunen and my incredible players, David Medine, Hannah Collins, Olga Reskalenko and Jackie Ludwig. In the end, what seemed impossible became reality. I was so proud of the players, and they were very happy with the piece in the end, as was I. Kaija and Anssi were incredibly supportive and generous with their time and knowledge. It was a huge honor to work with them as well as a great pleasure. I feel that through our efforts to understand and support each other's work, we all formed incredibly close friendships in a short amount of time. I dearly miss you guys.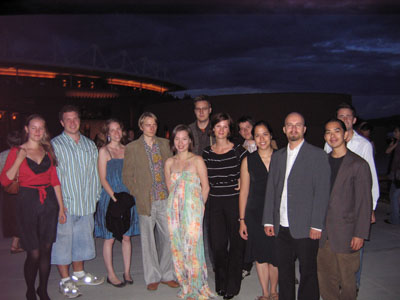 6/28/08
Schuyler Tsuda, Award-Winning Filmmaker
I've got some great news to report. I found out earlier this month that I received a Gold Remi Award at the WorldFest-Houston International Film Festival in 2008 for Edification! You can check out my win on the WorldFest website, and take a peek at the laurel wreath on my films page. This is a sweet victory because when I used to do soundtrack work for Whetstone Films, the production team won a Bronze Remi at WorldFest, but now, on top of my own personal win, I've beaten my old team with my own film, which I wrote, directed, produced, and scored. I just thought I'd point that out for fun. I'm not saying I'm better than them, but apparently I am according to the WorldFest-Houston International Film Festival.
Red Light Film Night
Edification was just screened at the very first Red Light Film Night at Tiffany Bar and Grill in St. Paul, Minnesota. It was fun, and a lot of folks showed up for the screening. There were some technical glitches with the audio and video, but I'm sure they'll get those kinks worked out for the next show.
More Film News
Finally, I just finished re-editing and re-scoring Tinnitus. I'm crossing my fingers and hoping that it gets into the Bearded Child Film Festival this year because they're coming to Minneapolis, and I am really excited to finally go to the festival (it's usually in Grand Rapids, MN, 4 hours away). I hope they bring on the crazy, and I hope that Tinnitus is a part of the madness. I'll be uploading Tinnitus within the next two months. I just need to do some mastering of the soundtrack on my good monitors back in Minneapolis and some fine tuning the color correction.
Even More Film News
Lastly (for real this time), I have some new film projects in the works. They're top secret, but I can tell you that they will be very extreme and the main one will be 10 times weirder than anything I've done before. It's my "happy" movie. Stay tuned!
4/9/08
Kaija Saariaho Composer Symposium
Greetings everyone! It's been a while since I've posted anything, but I've been busy–doing a ton of cool things, mind you. The latest news is that I have been chosen to represent the University of Minnesota at a composer symposium in Santa Fe from August 1-8 called "Santa Fe – Creative Dialogue." It is a partnership between Julliard, University of Minnesota, Sibelius Academy, Yale, UCSD and NEC. Each school will select one composer and one string player to partake in a week of workshops. The students will be guided by Finnish spectral composer Kaija Saariaho (!) and Finnish cellist Anssi Karttunen, and the composers will compose a piece for strings prior to the symposium and have their works performed in concert at the end of the symposium. The symposium will also include Kaija Saariaho's premiere of her new opera Adriana Mater at the Santa Fe Opera Festival. Needless to say, I am very excited!
SEAMUS 2008
I just came back from Salt Lake City, Utah on Sunday. SEAMUS 2008 was absolutely amazing. I had a great time there, and I sincerely feel that this was the best festival I've been to! The organization, the venue, the audio enginneering and the programming were superb. I must admit, I came to Utah not really wanting to be there, but it didn't take long to change my mind. I had a great time meeting up with some old friends from the festival circuit, and I met some very interesting new people that I'm extremely happy to have met. I played the live 4-channel version of Parasites, and happily, it was a success. My hat goes off to Miguel Chuaqui and his staff for an amazing festival. I am honored to have been a part of it.
Iancu Dumitrescu, Ana-Maria Avram and the Hyperion Ensemble at Spark 2008
How does one put into words the experience of meeting one's idol in person? I'm not sure how I can adequately express my love and admiration for Iancu the composer and Iancu the human being. Sometimes language just falls short, and this is definitely the case here. All I can say is that it was a life-changing experience, and most of what he said to me in conversation will remain private because those words are much too precious to me. To say that I had a great time with Iancu, Ana, Andrei, Petru and Tim Hodgkinson during Spark would be the understatement of the year. Iancu and Ana have, among other things, invited me to Romania to stay with them and study composition, and I plan to go to Romania next year.
Shield Your Eyes
Also Spark 2008-related, the Shield Your Eyes show at the Whole was amazing, and I had a great time! Mike and I played a 30-minute set on the Tuesday night Twin Cities Showcase show, officially opening Spark. I've uploaded the video, and you can check out the Shield Your Eyes page I made. The camera audio is not very good, unfortunately, and much of the low audio frequencies are lost in the video recording. You can't hear all that great low-frequency terrorizing we were doing, especially at the end, when I turned on the motors on my stringed instrument! Such is the problem with recorded live performances, but hopefully you'll at least get the spirit of what we did that night.
Benders and Hackers Group
The Benders and Hackers Group is revived! We've been holding some interesting workshops. Early this year, Mike and I did a demo on simple audio hacks and contact micing. Chris Keller did a talk on basic electronics and demoed a synth circuit. Mitchell Dose did a workshop on making custom PC boards. I'm planning to do the next workshop on something that I've been working on for a while now, sound sculpture and mechanics.
Art/Noise Show
On a related note, I am planning on putting together an art/noise show in the very near future. It will be a recontextualization of the art gallery/concert music presentation. The basic idea is that I want to break down borders, both physical and imaginary that we as a society put up in our "packaging" of art. The show will be held in a warehouse space in NE Minneapolis, the location of which will be announced hopefully within this month of April. Sound sculpture and DIY instruments will be set up in various areas throughout the space. There will be no stage, no seats. The audience will come in and experience the pieces and will be free to walk around and in some cases, engage with the pieces. At certain points in the evening, an artist or artists will go to their station and start playing, and the audience will naturally congregate around the artist in a circle. I'm also planning to install a large sound sculpture piece with Chris Keller, which will utilize part of the venue, and part of our performance will involve the destruction of the piece. Stay tuned for more info on this show!
DIY Resources Blog
Last bit of news for now: I've put together a DIY Resources blog for my Benders and Hackers Group. It's not a comprehensive list, but it's got a good mix of some interesting types of audio DIY. You can check it out here: DIY Resources.
Cheers, and best wishes,
Schuyler
12/24/07
Restructures
Happy holidays, everyone! It's been a while since I've done a proper update. I've had many interesting opportunities as of late. Probably the biggest has been my second collaboration with Guerino Mazzola, this time on a recomposition of Pierre Boulez' Structures for two pianos. The new composition is called Restructures, and I was the co-composer and orchestrator for the 4-movement piece. We used Mazzola's Rubato software to transform the original piece in various ways, and I orchestrated it with my software. A paper and the piece were presented at IRCAM with Boulez in the audience, and it was well-received. I am a co-author of the paper, which will also be presented at ICMC 2008. I am extremely grateful to Guerino for the opportunity.
Spark Festival 2008
If you're keeping an ear to the electronic music festival circuit, you may have noticed that Iancu Dumitrescu, the great Romanian spectral composer, i.e. my favorite composer, is coming to Spark 2008! Guess who arranged that ;). Needless to say, I am really excited. He is bringing his Hyperion Ensemble, and he is planning a legendary performance. I am also looking forward to seeing Puzzleweasel again. He was simply mind-blowing last year. Who else is playing? Oh yeah . . . me. I'm playing a 40-minute noise set with Mike Duffy on the Twin Cities Showcase concert at the Whole on opening night. I am planning to do an all or almost all DIY set. It should knock your socks off. Bring earplugs and extra socks!
ST-303
I've been working on my own 303-inspired sound sculpture. I've uploaded the pictures to the DIY Instruments section for you to check out. It's got 16 square wave oscillators, and a copper arm on a motor completes the circuits as it touches the large copper contacts. I've also got photocells controlling the volume of each of the oscillators and they also control the envelope filter/lowpass filter that I'm actually troubleshooting at the moment. The ST-303 is still being built, but a large part of it is done, as you can see, and it looks pretty cool!
11/5/07
DIY
Check out the new DIY Instruments section. I just finished my Cymbal Sculpture. I'll post some info about it in a bit. I'm a little too busy right now. While you're at it, check out the controller picture on the bottom of the page. That was what my work desk looked like while Chris Keller and I were desperately trying to fabricate the USB PIC-based controllers for the ArtsMosis festival. We were down to the wire (bad pun) and very stressed out. I think the picture says it all.
8/09/2007
Bearded Child Film Festival
My latest film, Edification, was accepted into the Bearded Child Film Festival 2007! It promises to be bizarre and experimental, and I'm really excited about it. The festival runs from August 17 through August 18, 2007, and my film will be screened during the 6:00pm set on Friday evening. Come out to Grand Rapids, MN, and come check it out! Click on the link above for more info.
7/24/2007
First of all, I should mention that my new webpage was created by VJ, video artist, web designer and friend, Oliver Grudem, of whom I am a huge fan. His genius cannot be contained.
ArtsMosis 2007
I am working on a collaborative arts project with mathematician, scientist, theorist and free jazz pianist Dr. Guerino Mazzola, the aforementioned Oliver Grudem and electrical engineer Chris Keller for ArtsMosis 2007. It will be an interactive music/video performance in which the audience will influence the outcome of a composition/improvisation performed by Dr. Mazzola on piano and me on laptop. There will be custom-made controllers for the audience, weird, psychedelic images on a large screen and mind-bending, organic musical textures. I'll post pictures and more info in the near future. The performance is on October 5, 2007 at the University of Minnesota.
Electronic Music Midwest 2007
I got into Electronic Music Midwest this year for Parasites! I'll be playing it live on laptop in Csound. I decided to forego the OSC/MIDI thing. It was way too unstable and cumbersome. I found a better way with FLTK buttons triggering score events within the orchestra and MIDI controlling various parameters all in one .csd file. I'm quite happy with that setup, and I'm going to use that same architecture for the live electronics in the ArtsMosis piece. Come out to Kansas City Community College from October 11-13, 2007. I love EMM, and you will too.
Trip-Hop Project
Also, I am working on an instrumental trip-hop/IDM project with Patrick Flanagan, who is into learning algorithms, cognitive theory and spectral music. More info on that later, but the wheels are in motion, as they say, and this will be very cool.
HIFF Trailer 2008
Lastly, I suppose I can mention that I will be composing the soundtrack for next year's Hawaii International Film Festival trailer. It is currently in production, and I'll post some info and material when the time comes.
Cheers,
Schuyler